RAM-B-149Z-UN10U este alcatuit dintr-o baza u-bolt cu bolturi metalice zincate, un brat cu prindere dubla si un suport X-Grip® IV universal cu arc pentru telefoane cu dimensiuni mai mari.
Inclus in acest pachet este dispozitivul pentru prindere pe bare de la 0,50 "la 1,25" in diametru.
Baza include capace negre care se vor monta peste capetele expuse ale u-boltului.
Adaptorul compozit inclus poate ingusta bara la minim 0,5 ".Suportul este proiectat cu un sistem patentat RAM cu bile de cauciuc B cu diametrul de 1″ si soclu care are puncte de reglare la ambele capete ale bratului dublu,
permitand reglarea aproape infinita si unghiuri de vizualizare perfecte. Suportul X-Grip® IV echipat cu arc se extinde si se strange permitand o potrivire perfecta a telefonului sau a phablet-ului.
X-Grip® este un dispozitiv de prindere recomandat pentru aplicatii in exterior.
Este important sa verifici dimensiunea telefonului incluzand husa exterioara pentru determinarea dimensiunii totale.
OVERVIEW
Ideal for handlebars, the RAM-B-149Z-UN10U consists of a zinc-coated U-bolt base, medium length double socket arm, and the popular spring-loaded RAM® X-Grip® large phone holder. In addition, hardware is included to accommodate rails from .5″ – 1.25″ in diameter. The RAM® X-Grip® features an 'X' design that expands and contracts to provide a perfect fit for your device – even if it's in a case. Made of powder-coated, marine-grade aluminum, stainless steel components, and high-strength composite, this large version of the RAM® X-Grip® fits phones ranging from 1.75″ to 4.5″ in width and keeps your device completely functional and accessible. RAM® ball and socket technology allows for near-infinite adjustability to achieve the ideal viewing angle – while also extending the life of your phone by providing shock and vibration damping. For outdoor applications, the RAM® X-Grip® includes a device tether that is recommended for added security and peace of mind.
HARDWARE INCLUDED
(1) Optional Tether
(1) Glue Tube for Rubber Caps
(1) 1/4″-20 U-Bolt for .5″ – 1″ Rails
(1) 1/4″-20 U-Bolt for 1″ – 1.25″ Rails
(2) 1/4″-20 Nylock Nuts
(2) Rubber Caps
(1) U-Bolt Spacer
HOLDER DIMENSIONS
Width Range: 1.75″ – 4.5″
Depth Range: .875″ max
CLAMP RANGE
.5″ – 1.25″ diameter
SOCKET-TO-SOCKET LENGTH
3″
BALL/SOCKET SIZE
B Size (1")
WEIGHT CAPACITY
2 lbs
MATERIALS
Marine-grade aluminum
High strength composite
Stainless steel
PACKAGING TYPE
Poly Bag
WEIGHT
0.75 lbs.
ADDITIONAL INFORMATION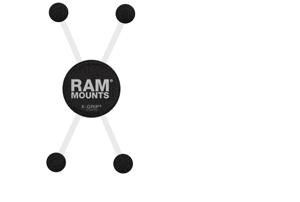 Dispozitive compatibile:
Apple
iPhone 6s Plus
iPhone 7 Plus
iPhone 8 Plus
iPhone Xs Max
iPhone 11 Pro Max
iPhone 12 Pro Max
Blackberry
Evolve X
Garmin
Drive 50
Drive 51 LM
Drive 52
Drive 61 LM
DriveSmart 51 LMT-S
DriveSmart 61 LMT-S
DriveTrack 71
Nuvi 2788LM
RV 660LMT
RV 770 LMT-S
Google
Pixel 2 XL
Pixel 3 XL
Pixel 3a XL
HTC
Bolt
U Ultra
Huawei
Mate 20 X
LG
Fiesta 2 LTE
Fiesta LTE
G8S ThinQ
Harmony
Stylo 2 V
Stylo 3
Stylo 3 Plus Titan
Stylo 4
V20
V50 ThinQ
X charge
X venture
Magellan
TR5
TR7
Motorola
moto e4 plus
moto g4
moto z2
moto z2 play
moto z3
Rand
McNally Road Explorer 5
McNally TND 540
Razer
Phone 2
Samsung
Galaxy A7
Galaxy A7 (2017)
Galaxy A7 (2018)
Galaxy A8
Galaxy A8 (2016)
Galaxy A9 (2016)
Galaxy A9 Pro (2016)
Galaxy A9 (2018)
Galaxy A70
Galaxy A80
Galaxy A90 5G
Galaxy C7
Galaxy C7 Pro
Galaxy C9 Pro
Galaxy E7
Galaxy Grand Neo Plus
Galaxy J7
Galaxy J7 Max
Galaxy J7 V
Galaxy Note 5
Galaxy Note 10 Plus
Galaxy Note20 Ultra
Galaxy On7
Galaxy S10 5G
Galaxy S8
Galaxy S8 Active
Sony
Xperia C4
Xperia L2
Xperia XA Ultra
Xperia XA1 Ultra
Xperia XA2 Ultra
Xperia XZ Premium
Kituri:
Complete
Legaturi / Brate:
Mediu
Baze:
Prindere pe bara
Dimensiune bila:
B 1".
Tip dispozitiv:
Telefon
Material
Aluminiu + Compozit